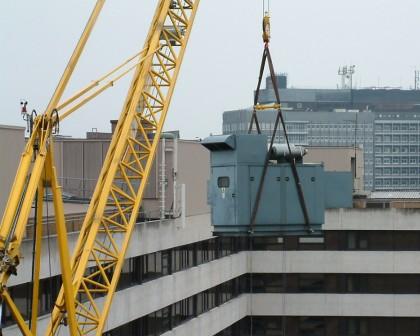 T.W. Generators Limited are experienced and insured for the: decommissioning, removal and disposal of surplus or redundant generating sets. Generating sets typically require removing when they come to an end of their useful life or they are taking space that can be used for other purposes. Sometimes for dilapidation reasons when a lease or rented property needs to be returned to the original condition sets need removing.
Generators can be installed for example on a roof or in basement and in these removal challengers require specialist skills and equipment. We are able to view and formulate methods for removing generators in England or Wales. We have particular experience of working and decommissioning generators in London.
In some cases some or all of the costs of removals can be offset by the residual value to us of redundant generators.

We also decommission and remove from site redundant or surplus UPS and electrical distribution or control panels, especially when they are part of a project including the removal of used generators.
Pair of generators removed from a water Company